Sans-Serif For President?!?
With the upcoming election just 16 months away, the public is about to be littered with poorly designed political posters and propaganda from Local and State Government to the GOP Presidential candidates and then the final showdown.
I decided to take a look back through the last 13 election cycles, beginning with Kennedy's campaign in 1960. Spanning the course of over 50 years, these campaigns existed through a tremendous time of technological growth – yet overall it seems that there has been little to no growth design wise. While there are seemingly endless variations of each design for a single campaign, this article will attempt to review the most generic versions of the winners. I omitted a few evaluations that I did like Stacked names vs. Side-by-side, All caps vs. Mixed Case, Justified Alignment vs. Offset, Slogan vs. No Slogan and many other obscure analysis points – with the hope of not making this thing overwhelming.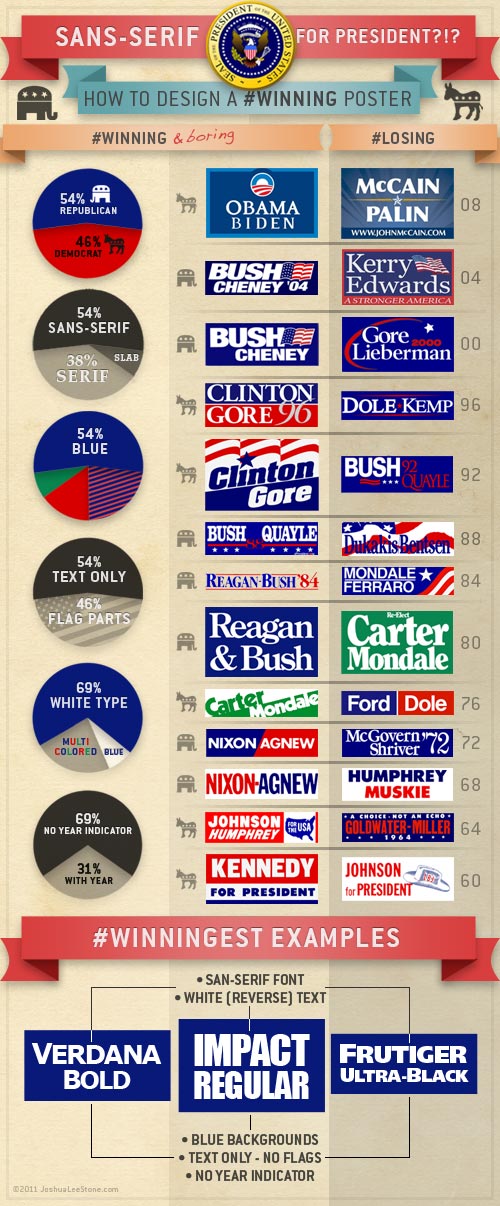 While there are some interesting similarities here I would not be an advocate of actually using this as a design guideline unless you wanted to create, as I mentioned, a very "boring" poster. It would be nice to see some innovation in this space.
Obviously a campaign actually #winning is not based solely on signage design. However, as with any brand I believe that to the degree at which professionalism is exhibited there is at the very minimum a subconscious impact – just as any product branding would have. With so many other factors at play in a campaign; policy debates, voting records, current issues and events – a cohesively designed campaign would only be necessary checkbox of done correctly. We saw Obama's campaign dominate in this space in the last cycle – probably as the first candidate who's campaign actually understood branding and how it should extend across all efforts, especially through social media.
A polar opposite of this would be the 1988 Dukakis-Bentsen campaign featuring blue text on top of a flag… If a student or employee of mine in all seriousness showed me a design like this I would fail or fire them. Also, I love that the 2000 Gore-Liberman showcased the iconic dot com "Swoosh" – classy.
As one last bonus I couldn't help but tossing in this poster from the 1996 Clinton-Gore campaign. While it might make a fun t-shirt I can't imagine who actually thought this was good bumper sticker design. Unless I know sign language, I would have no idea who this sticker was for – and that is assuming I always carry binoculars in my car to read bumper stickers with tiny, detailed line art.

Perhaps once I have a substancial number of 2012 campaign posters I will post them and do a little analysis/prediction for fun based on their design alone.