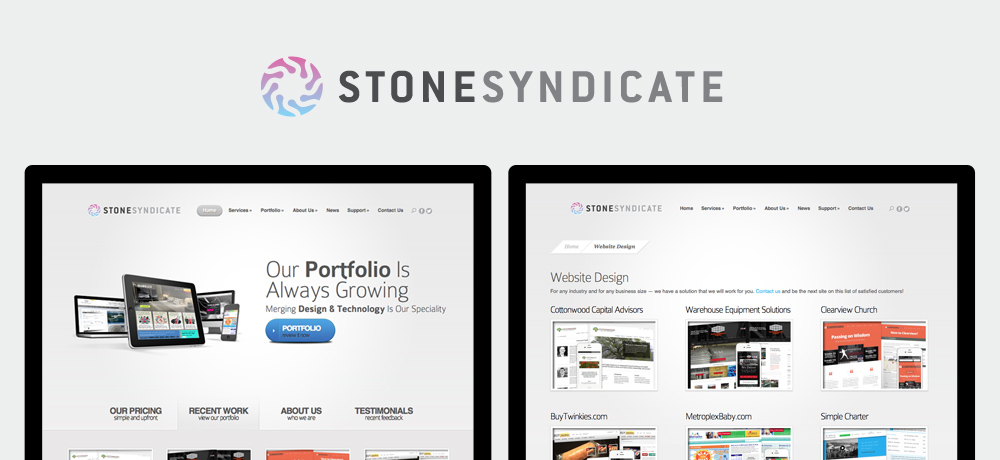 In 2011, I created and founded Stone Syndicate, a small business website consultancy and hosting provider.

After spending several years working on more corporate and long term projects, I missed the interaction of working with small business owners across a variety of industries. Additionally, I realized the overwhelming need for small businesses to have very usable and polished websites but as exceptionally low costs which led me to create a hosting company where by they can divide the cost to build the website they need over a two year contract.
I LOVE to work with small business owners who are excited about their product or service and who also really understand the value and benefit that an outstanding website brings to their business. It is a delight to work directly with them to learn their business model and help them understand how technology can greatly enhance their company.
Also, with the advancements in Content Management Systems like WordPress and Drupal, it makes it so incredible easy for customers to update their own content. They love it because they don't have to wait on me to make changes to their site and I love it because it keeps me connected with providing the very latest technical solutions available and frees up my time to work on new projects as they surface.
Notable projects:
Advanced Roof Management
Black Shield Capital
Carn Products
Cottonwood Capital Advisors
Casey Winner Salon
Deals of Scale
Grapevine Guitar Works
Bizz.net
Lion Fences
Masters Mens Grooming
Metroplex Baby
Motorsport Solutions
Ponder
RedAway
RoomBlock
Salo Products
Sandino Home Solutions
Savoya
Secret Powers
Sugar Ray's Bakery
United Systems
Warehouse Equipment Solutions
WideAwake.org