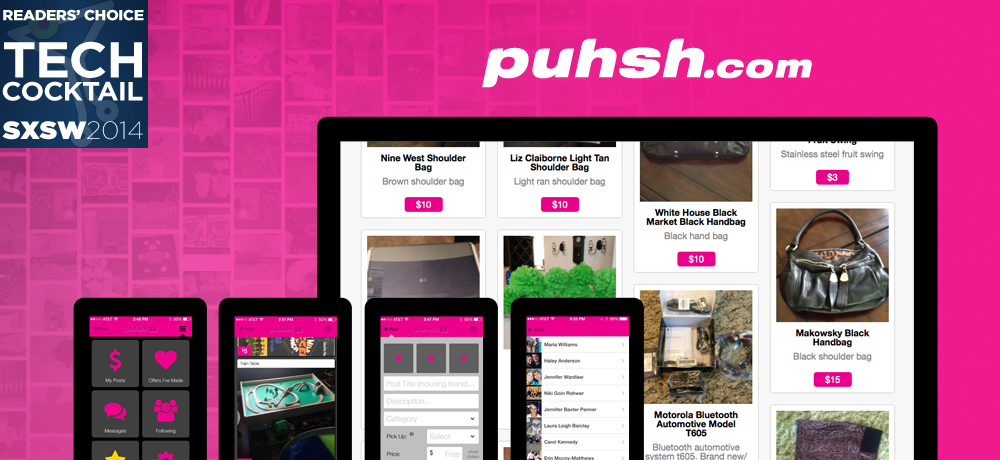 Puhsh is a socially-based local marketplace for people to buy and sell used items which I founded in 2013. Puhsh is a Craigslist competitor which relies on Facebook's Open Graph to show users how they are connected and also integrates gaming components to make transacting addictive.

In the summer of 2011, my wife and I had our first child. We were overwhelmed by the enormous amount of baby stuff that quickly began filling our home. My wife was invited to join an online Facebook Garage Sale Group to buy, sell and swap baby items with other local moms that were in the fast growing group. As I began to watch more groups form and grow quickly, and see my wife and her friends extreme frustration with a variety of issues, I realized the product design potential of what was occurring.
What started as a simple app to essentially create a better experience for "mom-swapping" led to several innovative ideas and eventually the formation of the Puhsh App.
Oddly enough, I had purchased the domain puhsh.com back in 2010 and had been toying with several different ideas as to what to use it for, yet was never really satisfied with any of them. As I began to formulate what this new platform could be, I realized how puhsh.com could be utilized, essentially to take this marketplace which had no real clear name as to what it was (online garage sale, yard sale, swap meet, mom-swap, kid-swap, swop-swap, kid-2-kid, etc,) and to define the act of selling one of your used items to someone else – essentially "puhshing" it on someone else.
As the idea and the product strategy for the App grew – I recalled a time much earlier in my career. Just prior to graduating from OSU in the spring of 2000, I decided one weekend that I could no longer take the hideous design of Craigslist. I had just moved to Dallas in 1999 for my internship and was using Craigslist to buy used items to furnish my apartment, and sell some old college remnants – and as a good industrious (and idiotic) designer might do, I thought that perhaps Craigslist just didn't want to pay a designer to remake their site. So I voluntarily created a new design for them and sent an email to their support staff. To which, of course, I received no reply. Of course I was extremely green to think they would ever respond – but I was completely fed up of years of the same terrible design when all of the dot-com days were exploding back then.
Fast forward a decade and a half.. and Craigslist still has the same terrible design. If one thing is true about the tech industry, it is that everything has to change at some point. As I began to ponder this and to dissect what was happening with locally based organic groups I realized that the transition away from Craigslist was already in full swing – it was inevitably becoming socially based.
Thankfully for me, though, the Facebook Groups were almost as equally a terrible experience as craigslist. In many ways they are even more frustrating because rules differ from group to group. Groups overlap, people cross-post items and duplicate entries. There are no search capabilities, no filtering of any sort. You can not manage the posts that you have added or easily see items you have said you want without endless scrolling. A terrible, crappy experience – but STILL better than Craigslist somehow.
As this culminated in my mind, I realized what was necessary to create was a socially-based local marketplace – thus, I formed Puhsh Inc.
We presented the beta App in March at the 2014 SXSW Tech Cocktail event in Austin, TX and were surprised to win the Hottest Startup People Choice Award! And after officially launching in April, we had users posting items for sale in all 50 states – all within the first 10 days of launch!!