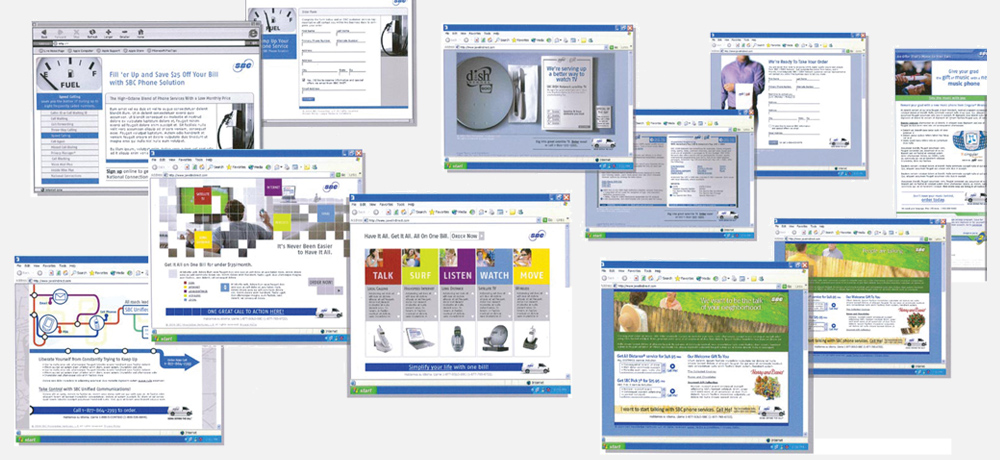 In 2003, I was recruited away from AbstractDevice by Rapp Collins following an outsourced project whereby I helped the Omnicom Agency create the strategy and original presentation which resulted in landing Hyatt Hotels as a client.

Omnicom is of course one of the largest holding companies whose agencies provide marketing and communications services in the disciplines of advertising, CRM, strategic media planning and buying, digital and interactive marketing, direct and promotional marketing and other specialty communications. During my time with them I worked for two agencies as detailed below, Rapp Collins and Javelin Direct.
Following the successful landing of Hyatt, I was offered a very unique opportunity to come in and lead the interactive marketing team for the SBC (AT&T) Account. Rapp had DirecTV as a client, but following a partnership of DishNetwork by SBC there now existed a conflict of interests. So the result was to split the massive advertising agency and form a new advertising agency, Javelin Direct.
I essentially helped create a "startup" advertising agency from the ground up – even to the extent of doing the interior layout and paint schema for their new 30,000 sq ft offices and working with the VP of strategy to define what the new agencies business model and processes would be which was featured in CommArts Magazine.
My primary role was to lead the Interactive Design Team in creating joint campaigns for direct response mail, which was comprised of hundreds of millions of drops per quarter, generally 20-50 million per drop. Some notable campaigns were creating the announcement of AT&T's acquisition of DishNetwork and of Cingular Mobile, the 2004 Olympic's Advertising Campaign and the AT&T Blueroom: a site focused on incorporating Pop Music Celebrities with Webcasts and Blogs targeted towards the 20s and teen markets. My team was also responsible for the design of the email marketing initiatives for AT&T, whereby we architected the first strategies of mass email distribution and metric gathering.
Clients:
Cingular Wireless
DishNetwork
Hyatt Hotels
San Antonio Spurs
San Francisco Giants
SBC (AT&T)
USAA
Walt Disney