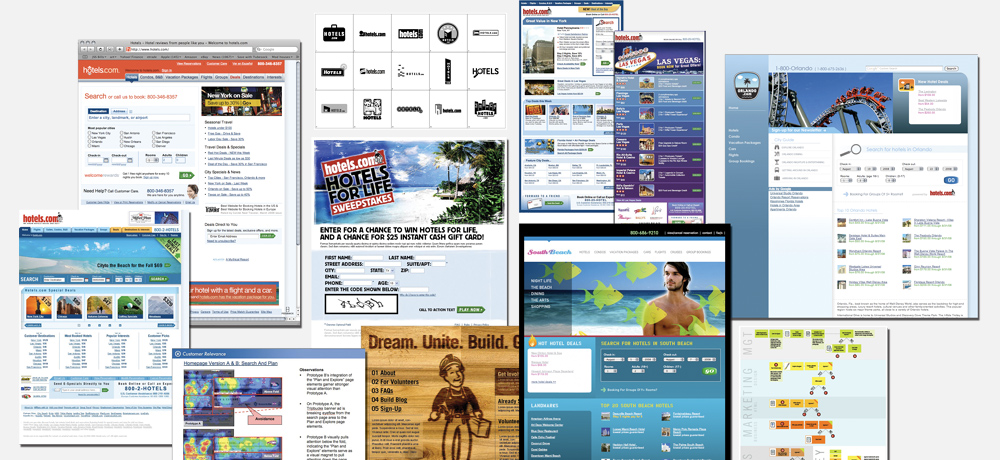 From 2005 to 2007, I directed the User Experience Design and Front-End HTML teams for Hotels.com.

I was fortunate to work for hotels.com through some very interesting Internet years. I was recruited away from my position with Javelin (Omnicom) to build a User Experience team for Hotels.com. When I came into the company it was an absolute turd, to state it bluntly. The majority percentage of revenue was still being primarily driven from call center operations and not via the actual website.
During my tenure, Hotels.com split from IAC (as it was originally purchased just as Hotel Reservation Network) and merged along with Expedia.com and Hotwire.com into a new Expedia Inc.
While hiring and building a robust UX team, I was able to lead many User Experience research lab experiments including working with cutting edge eye-tracking devices via Expedia connections. I created the master creative brief for all of hotels, and led it through a complete rebranding effort that touched all pages ultimately resulting in a 300%+ conversion increase and taking gross sales over $1M/day.
Additionally, I architected and designed hotels.com affiliate network product, IAN.com (now http://www.expediaaffiliate.com/index.php), along with several other sub-brands: SouthBeach.com, Orlando.com, VacationSpot.com. Also, I created a new Email Marketing template system and led cross promotional marketing efforts with Expedia.com, Hotwire.com and TripAdvisor.com.