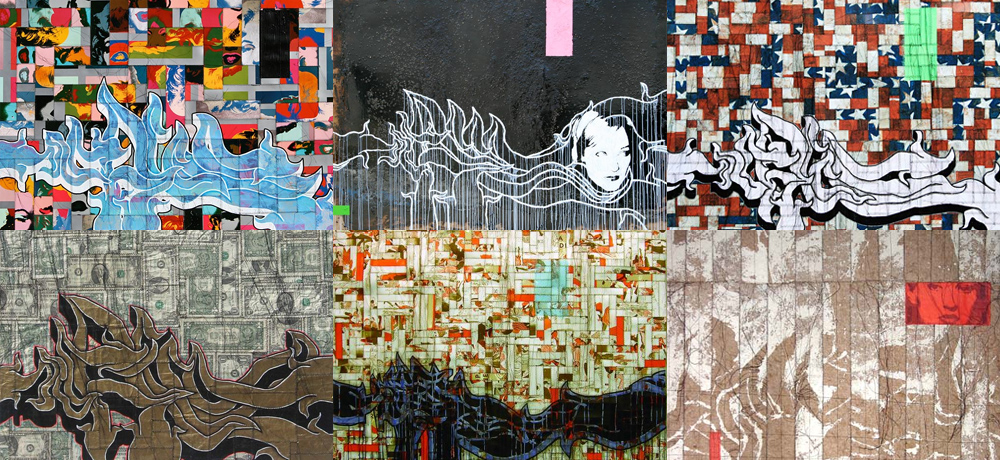 I create and show contemporary fine art and have had solo and group shows across the country. I am currently represented by The 9 Dudley Project in Venice, CA and Ross Akard Gallery in Dallas, TX.

I have always had a passion for art, and through elementary, middle and high school won several local, state and national awards. During my high school years I began an interest in graffiti with some fellow students which eventually transitioned into large scale commissioned murals and traveling extensively to paint with other well know graffiti artist across the country.
In 2000, I began creating gallery specific artwork and in 2004 began investing significant time into growing my fine art career. I have been signed with several galleries over the past decade and have had solo shows in New York City, Los Angeles, Denver and Dallas, as well as numerous group shows. In 2008 I was named one of the Dallas Nine by D Magazine, as one of the top artist in the metroplex.
This video profile was done by YouPlusMedia in 2009 and details a bit about my work:

Press Mentions:
Tech Crunch Blog, The Bible as a Social Book, 2011
New York Times Online, Social Books Preview, 2010
Tech Crunch Blog, Glimpse at Social Books, 2010
D Magazine: New Dallas Nine, 2009
Daily Candy: Weekend Guide, 2009
Daily Candy: Weekend Guide, 2008
DB Art News: Urban Mosaics, 2008
Dallas Morning News: The Art of Living, 2008
Paper City: Boutiques in Bloom, 2008
HappyHealthyHip: When in Dallas, 2008
Fotophonic: Art Monday – Joshua Stone, 2008
Daily Candy: Street Cred, 2008
FD Luxe: Bourgeois Diagnostic Opening, 2008
Paper City: Home Feature, 2008
Dallas Morning News: Haven Party, 2008
DHome: New Art at Haven, 2008
Fox 4 – KDFW: Now, New, Next, 2008
ABC 8 – WFAA: Elegant Christmas, 2007
SXSW Finalist Service Category, 2003
H.O.W. Self Promo Nominee, 2003
Comm Arts Interactive Nominee, 2003
The One Show Interactive Nominee, 2002
Published CDW, 2002 Published Netdiver, 2002
Published The Daily Upfront, 2001
Published Imperial Magazine, 2000
Brass Rings Interactive Design Award, 2000
Distance Learning Design Award, 2000
Brass Rings Interactive Design Award, 1999
Solo Exhibitions:
2011 May, Fusion, Twenty, Live Painting, Plano, TX
2010 November, Hewlett Packard, Live Painting, Dallas, TX
2009 August, Named one of "The Dallas Nine" by D Magazine, Dallas, TX 2009 April, Green Peridot Green Peridot, Frisco, TX
2008 July, Haley Henman Gallery, God's Hands, Dallas, TX
2008 July, Infusion Gallery, Remixism, Los Angeles, CA
2008 March, Haven, The Bourgeois Diagnostic, Dallas, TX
2008 January, Clampitt Creative Center, Talking Leaves, Dallas, TX 2007 November, Haven, Reassembled Destruction, Dallas, TX
Group Exhibitions:
2011 February, Fusion, H'art Beats, Plano, TX
2010 November, The Art of Skateboarding, Scottish Rite Hospital
Benefit, Dallas, TX
2010 November, Dallas Children's Advocacy Center
4th Annual Auction, Dallas, TX
2010 October, Affordable Art Fair NYC '10, New York, NY 2010 August, Ross Akard Gallery, Auction, Dallas, TX
2010 April, Ross Akard Gallery, Live Installation, Dallas, TX 2010 March, Fusion, Fired Up, Plano, TX
2009 November, Cedars Open Studios Tour 2009, Dallas, TX 2009 November, Dallas Children's Advocacy Center
3rd Annual Auction, Dallas, TX
2009 October, Fusion, Art is Fashion – Fashion is Art, Plano, TX
2009 June, Fusion, Flowers, Plano, TX
2009 May, D Magazine Art Slam, Fashion Industry Gallery, Dallas, TX 2009 May, Blue Dome Arts, Invitational III, Tulsa, OK
2009 May, Off the Grid, Off the Grid Dallas, TX
2008 November, Dallas Children's Advocacy Center
2nd Annual Auction, Dallas, TX
2008 August, The MAC, Gastronomia, Dallas, TX
2008 June, Translations Gallery, Urban Mosaics, Denver, CO
2008 June, Obelisk Neighborhood Mural Project, Dallas, TX
2008 June, FIG Building, 2008 Obelisk Awards, Dallas, TX
2008 May, Haley Henman Gallery, A Walk in the Rain, Dallas, TX
2008 May, Blue Dome Arts, Blue Invitational II, Tulsa, OK
2008 May, 500 X Gallery, Something Made Easy, Dallas, TX
2008 May, Decorative Center of Houston, The Hunting Art Prize, Houston, TX 2008 April, Gallerie Icosahedron, Group Show, New York, NY
2008 April, Haley Henman Gallery, Beginnings, Dallas, TX
2008 January, Projekt 30, January Exhibition, Online
2007 December, The MAC, The Blue Yule, Dallas, TX
2007 October, Bath House Cultural Center, El Día de los Muertos, Dallas, TX 2007 September, ALSO Gallery, DADA Fall Gallery Walk, Dallas, TX
2007 August, The MAC, 13th Annual Members Show, Dallas, TX
2007 May, Blue Dome Arts, Blue Invitational, Tulsa, OK