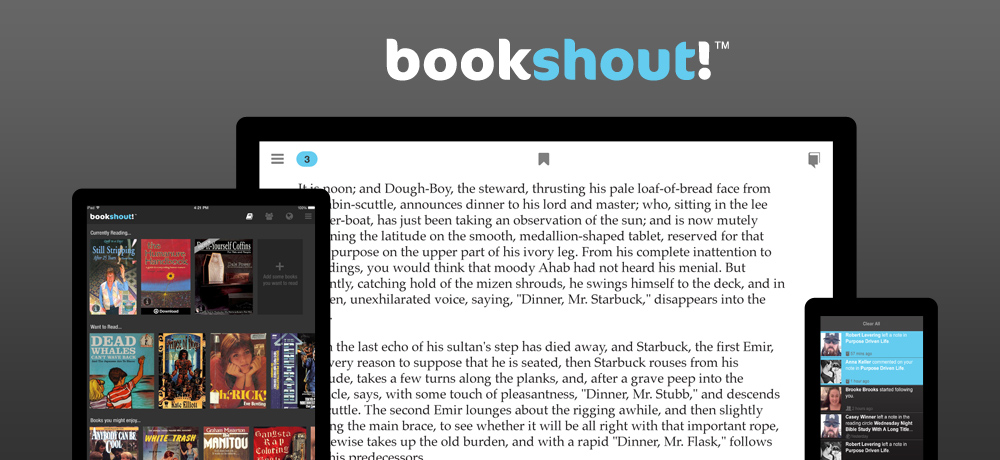 BookShout! is a technology company that empowers content creators to build new channels and sales opportunities by providing publishers, authors, and bulk book purchasers innovative ways to connect and build their audience.

In the fall of 2010 I began consulting with Rethink Books on new ideas of how to radically change the publishing industry. In June of 2011, after the successful acquisition of my prior company (Big Jump Media by Salem Web Network), I joined Rethink Books full time and eventually helped co-found the BookShout! Platform.
After several years of "startup pivots" we created a platform that combines social integration with ebooks for readers, robust bulk distribution for authors and publishers and a 3rd party API so that essentially anyone can create their own bookstore to sell their content (or content they have rights to distribute) digitally.
Before the days of the iPad, I worked with Rethink Books to define the identity and create basic flows for a web-based version of a social reading experience. Coming from leading the creation of a socially-based Bible product at Big Jump Media for Tangle.com – it was a logical transition into any long form content to make it commentable and sharable.
As we worked through different business models we created and released several different apps for mobile and web including First Chapters and AuthorPages and in late 2012 we began to develop the ideas for bulk distribution, originating with my marketing push to release free books via email advertising campaigns and fulfilling them thorough a simple web form. This eventually grew into a robust system with full administration both digitally and including the use of gift cards which I developed templates for.
We have successfully signed agreements with 5 of the big 6 publishers including Harper Collins and Hachette along with over 1,000 other smaller publishers – and we have done joint campaigns with Duck Dynasty, Beth Moore, The Dummies Series, How I Met Your Mother, Max Lucado, Kathy Reichs, Snooki, CareerBuilder, Intel, Teach for America, Microsoft, Ernst & Young, WordPress, and Brad Feld among many others.
Specifically for BookShout! I am the VP of Product Design and spend my days dreaming about what to do next while continuing to lead the team of developers, marketers and designers in the publishing tech space.