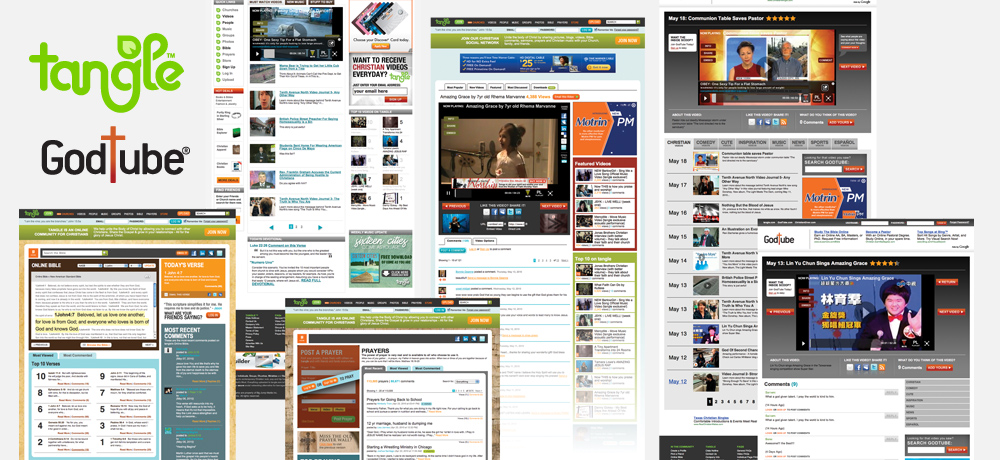 Big Jump Media owned the faith based video sharing site GodTube.com and Christian social network Tangle.com

During my tenure with BJM, Tangle.com, GodTube.com were the largest faith-based social networks and video-file sharing networks in the world with over 5M users. As Vice President, I worked with the CEO to define and execute our business strategy, led the marketing, information architecture, design and content teams.
I created the Social CRM and Email Segmentation Marketing Strategies that enabled the successful sale of both entities to Salem Web Network, along with completing due diligence, valuation and other associated acquisition documentation.
I worked to developed the full business strategy for Tangle.com and all associated marketing plans. Worked with the sales team to implement advertising campaigns including Walt Disney's Earth, Walt Disney's G-Force, National Day of Prayer, Huggies, Billy the early Years Movie, Dove Awards, WinterJam, Wow 2009 & 2010 CDs, and TBN Television Network.
I worked with the CEO to create the strategy for a digital database of over 330,000 churches with a white-labeling solution and premium service model which incorporated an e-Commerce solution and revenue share to advertise and move related industry merchandise across all channels.
I spent significant time planning, tracking and optimizing online and offline media, including: SEM, SEO, Display, Email (20M monthly sends) & Affiliate marketing, DoubleClick, Google AdWords, Google Analytics, Social Media & Blogs, Radio, Print and Online-Video advertising, Business Development and Channel Marketing.