Organizing UX for Large Scale Mobile Apps
Just wanted to share a few pics of the inter-workings of designing a large scale app that crosses vast social media integration and numerous content touch points. A considerable amount of time is put into organizing, structuring and designing such a product so that it will make sense for end users and appear simple and easy to use.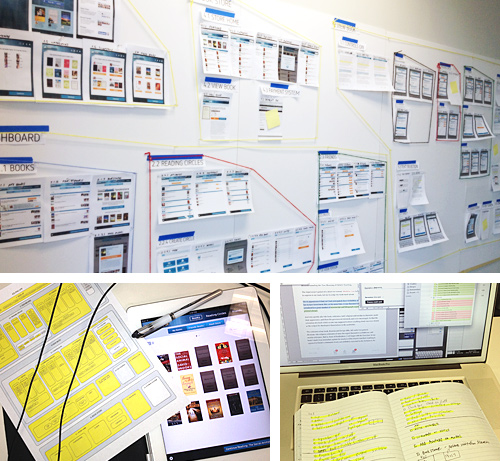 Forgoing these steps at this level will ensure confusion and ultimately the absence of returning users to your ecosystem. I have taken traditional website building methods and modified them to develop a system of what I am calling a 'Tap Map'. Very similar to a site map, but in this instance you can easily see where particular parts of the app are nested inside each of other and how many taps deep a particular piece of content is. This also allow certain pieces of information to be accessed in multiple ways inside the app without having flow lines and arrows running wild.
Mobile is definitely a different animal and as such the traditional web way of tackling things no longer makes as much sense. Within the confines of iOS and android each screen has to have special attention paid to it whereas in many web design instances content flows more freely and design is more about building buckets to drop things in. A few dozen page designs for the web will quickly turn into a few hundred for an app if attention to detail is taken into account. Adding touch and gestures to the user experience changes the architecture and every element has to fit in a particular place within the fixed dimensions of the screen. Links and more info to come soon – once this product is launched. Big stuff on the way, stay tuned.